In 2012 the Royal Academy is going to hold 5 big exhibitions, with 2-3 of them, in my estimate, promising to be highly exciting.
1. David Hockney RA: A Bigger Picture
21 January - 9 April 2012
by Jean-Perre Concalves de Lima for the New York Times
Already announced by the museum, with a special
highlight of 51 iPad drawings executed by David Hockney in the recent years (iPad being quite recent, especially as an artist's media).
The exhibition comprising 200 works in various media (oil, video, Polaroid and Apple prints, as well as his sketchbooks) created by the artist in the span of the last 50 years will then travel to the Guggenheim in Bilbao.

http://www.royalacademy.org.uk/exhibitions/hockney/about-the-exhibition/
2. Johan Zoffany RA: Society Observed
This exhibition bears a dramatic story of being refused by the Tate, where it was supposed to be held in 2010 but cancelled on Sir Nick Serota's concern that the show would not bring the desired 80,000 visitors, and thus could not be profitable enough to be worth an effort. Fortunately, Dr Charles Saumarez Smith of the Royal Academy made a magnanimous offer of holding a show in his museum instead.
Zoffany now rests on the walls of the Yale Center for British Art (

Thursday, October 27, 2011–Sunday, February 12, 2012

) and will arrive in London next March, 2 years later of the initial Tate schedule (arranged in accordance with the 200th anniversary of the artist's death).
Zoffany, thought not as famous as his contemporaries Reynolds and Gainsborough, was nevertheless well-established at the court of George III and
was sought after by numerous patrons. He was born in Germany, trained in Italy, lived in England starting from 1760 and made a fortune in India where he travelled in 1780s. There he befriended Warren Hastings, the governor-general, quickly became popular by painting portraits of soldiers and princes, and then
Zoffany's witty art offers amusing observations of the British society and its major institutions -

the Academy, the Court, the theatre, the British imperial rule and the social structure of the Georgian society. Though popular among aristocracy, Zoffany did not succumb to its aspirations of being presented in a grand manner and painted his portraits and genre scenes with sharpness and critical evaluation of his own. "He depicted hefty men's waistcoats barely covering their stomachs, and gave clues about their overspending, adultery or arrogance". (Eve M. Kahn, The New York Times
)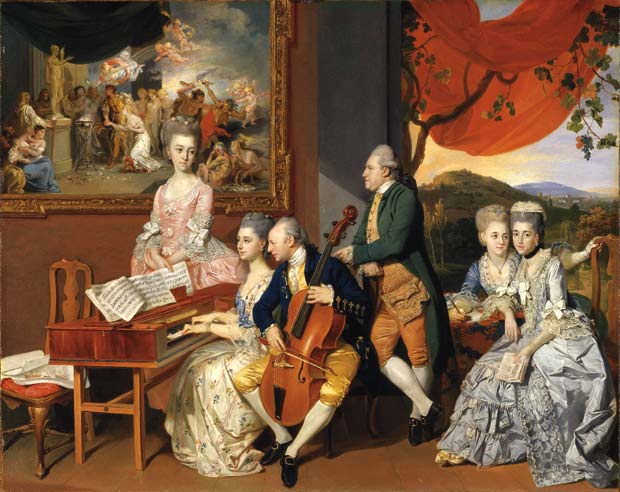 The Gore Family with George, Third Earl Cowper, c. 1775
The show, which will be the first exhibition of Zoffany's work in Britain since 1977, incorporates extensive research conducted over the last decades. Zoffany was largely neglected in the 19th century, and the exhibition aims to re-evaluate the achievements and impact of this remarkable artist - an artist who provided brilliant social commentary in paint on the society he closely observed.